Facebook's first earnings report: mediocre results, new low for stock price
(Read article summary)
On Thursday, Facebook had its first-ever earnings report as a publicly-traded company. Facebook announced a $157-million loss, and although its revenue beat Wall Street's expectations, it still hasn't figured out how to translate users into profits.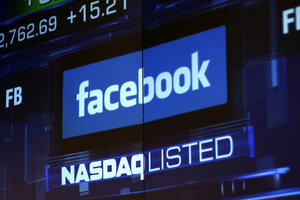 Eric Thayer/Reuters/File
Facebook's finances have been in the news quite a bit lately. In May the social-networking behemoth made its initial public offering, selling shares at $38 each -- one of the largest technology IPOs in history. Then the stock declined steeply, losing about a third of its value over the next few months, and pundits wondered whether Facebook really had a strategy to turn a profit after all.
But on Thursday Facebook had its first-ever earnings report as a publicly-traded company, and we got a clearer picture of how profitable the company really is.
The results were disappointing, but not disastrous. Facebook announced a loss of $157 million, compared to $240 million in income over the same quarter last year. The company blamed the loss on expenses it incurred after its IPO, including $1.3 billion in share compensation and payroll taxes. On the other hand, though, it reported that its revenue, fueled mostly by advertising, had climbed 32 percent, from $885 million to $1.18 billion, beating Wall Street's expectations.
Facebook's stock prices slumped a bit following Thursday's announcement, trading around $22 Friday morning. To put things in context, analysts say they aren't expecting the company to come roaring out of the gate, but one thing's fairly clear: Mark Zuckerberg and his crew will need to figure out in the next few months how to translate their growing user base into growing profits.
---