With new Reader, Sony attempts to turn the page
(Read article summary)
A new Sony Reader hits shelves this week. But Sony faces stiff competition in the e-reader market.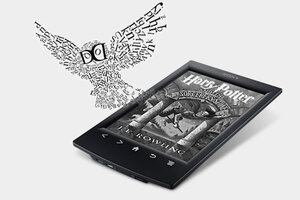 Sony
Sony today took the wraps off a new e-reader called the Sony Reader PRS-T2 – which, let's face it, makes the thing sound a lot like a Russian-made tank from the mid-1980s. But the PRS-T2 is an admirably full-featured device: witness the svelte, squarish chassis, the nice big buttons (a significant step forward from previous Sony Reader models), a six-inch touch screen with Pearl E-Ink technology, and 2GB of storage.
The new Reader will include Facebook and Evernote integration, meaning that users can both archive chunks of text and share snippets of their favorite titles online. Sony says the e-reader, which begins shipping today, will retail for $129 at Sony Stores and online; if you're a fan of the Harry Potter series, you can scoop up a free copy of "Harry Potter and the Sorcerer's Stone" as part of the bargain.
---