iPad Mini: Is the new Apple tablet priced too high?
(Read article summary)
The iPad Mini will sell for $329, less than other iPads but much more than competitors such as the Kindle Fire.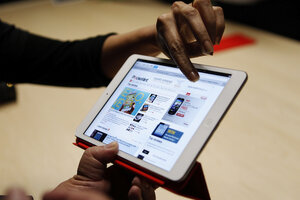 Reuters
As recently as Monday, plenty of folks were speculating that Apple would sell its iPad Mini for $275 or even $250. Well, the slimmed-down tablet computer finally got its grand unveiling yesterday, and now we know the truth – the device will actually cost $329, a full 129 bucks more than both the high-resolution Amazon Kindle Fire and the base-level Google Nexus 7.
Pretty pricey, in other words, for a 7-inch tablet.
Unsurprisingly, Apple has already found itself on the defensive. In a conversation with Reuters today, Apple marketing chief Phil Schiller maintained that consumers had, in the past, shown a willingness to fork over a little extra for an Apple device.
"The most affordable [tablet] we've made so far was $399 and people were choosing that over those devices," Schiller said, referring to the iPad 2, which saw a price drop earlier this year. "And now you can get a device that's even more affordable at $329 in this great new form, and I think a lot of customers are going to be very excited about that." Schiller added.
---