Bram Stoker books: How 'Dracula' created the modern vampire
(Read article summary)
Before there was 'Twilight' or 'True Blood,' there was Bram Stoker. Books like 'Dracula' defined the genre for a century to come.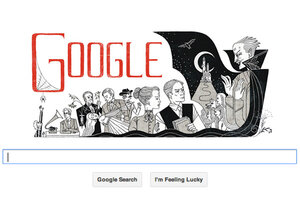 Google
The Google homepage on Thursday depicts a sinister-looking count, a castle on a lonely hill, and a fainting woman surrounded by concerned suitors. The doodle, of course, is an homage to the 1897 novel "Dracula," and its Irish author, Bram Stoker, who would have turned the ripe old age of 165 today. So who was Bram Stoker, exactly?
Only the progenitor of the modern vampire craze. Long before there was "True Blood," "Vampire Diaries," or "Twilight" – with its sophisticated "vegetarian vampires" – there was Stoker and his most famous creation: a long-toothed, blood-thirsty Transylvanian transplant. 
Abraham Stoker was born on Nov. 8, 1847, in a suburb of Dublin called Clontarf. He was the third of seven children. Although he had struggled with illness as a kid, by the time he got to Trinity College, in Dublin, Stoker was a swaggering, flush-cheeked bon vivant – he joined the debating squad, became president of the University Philosophical Society, and apparently excelled at soccer and track and field. 
After graduation, on the insistence of his father, he enrolled in the Civil Service, and took a job as a clerk. In his spare time, he wrote relentlessly, both short stories and theater reviews for The Dublin Evening Mail. Through his newspaper connections, he met Henry Irving, a famous actor and the owner of the Lyceum Theatre, in London. Irving and Stoker struck up a friendship. 
In 1878, Stoker married Florence Balcombe, the beautiful daughter of a Lieutenant-Colonel in the British Army. Stoker and Balcombe eventually moved together to London, where Stoker helped manage operations at the Lyceum Theatre. He remained in that post for almost three decades. 
Three years before getting married, while still in Dublin, Stoker published a novel called "The Primrose Path" (the main character is a carpenter for a theater in London). Once in England, he rededicated himself to his fiction writing. His second novel, "The Snake's Pass," appeared in 1890, and his third and fourth in 1895.
His fifth novel was "Dracula," the book that assured him a place in literary history. 
With "Dracula," Stoker used journal and diary entries to tell the story of a powerful and vampiric count and his pursuers – Dr. John Seward, Arthur Holmwood, Quincey Morris, Professor Van Helsing, and Jonathan Harker. Dracula carts himself to London, wreaks havoc, and finally flees back to Transylvania, where he is killed. 
"Dracula" was a hit among reviewers, and it sold well in both the UK and the US (where it was released in 1899), although the book was not an instantaneous, Stephen King-level success. In fact, what really solidified the place of "Dracula" in popular culture was not the novel itself, but the film adaptations – PBS estimates that there have more than a thousand. 
Perhaps the most famous is the 1931 vehicle starring Bela Lugosi, although for our money, the 1992 version, with Gary Oldman as the dread count, wasn't half bad, either. At any rate, Stoker never lived to see the success of "Dracula" reach critical mass. 
He died on April 20, 1912. 
It remains unclear what he would have made of "Twilight."Â 
---