Remembering Auguste Rodin, the French sculptor and artistic innovator
(Read article summary)
The Google homepage today celebrates Auguste Rodin, the Parisian sculptor of 'The Thinker,' 'The Kiss,' and other famous works.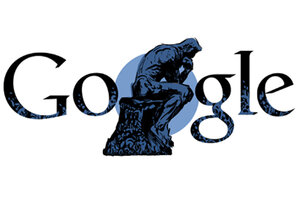 Google
The Google homepage today depicts a man sitting on a slab of rock, his chin resting on one fist, his face furrowed in concentration. The doodle is an homage to the famous sculpture of "Le Penseur," or "The Thinker," and its creator, the Parisian artist Auguste Rodin, who was born 172 years ago today. So who was Rodin, exactly? Only one of the most influential sculptors in history. 
Rodin was born on Nov. 12, 1840, the son of Marie Cheffer Rodin and Jean-Baptiste Rodin, an inspector in the Paris Préfecture de Police. He spent his childhood in the bustling central Paris district of Mouffetard, where he found some of his first subjects. 
"When I was very young, as far as I can remember, I made drawings," he later told a friend. "A grocer patronized by my mother used to wrap his prunes in paper bags made of pages torn from illustrated books, or even prints. I copied them." 
As a young man, he was sent to a local school devoted to design and math. He fared poorly with the math. 
"I could not see the figures on the blackboard," he recalled. "I have always been shortsighted. As a child I did not know what was the matter and I hated mathematics because I could not see."
But Rodin was an exceedingly skilled artist.
He studied with the sculptor¬†Antoine-Louis Barye and spent many long hours absorbing the techniques of the French Romantic school. When he was repeatedly denied admission to the¬†√Čcole des Beaux-Arts, the leading art school of the day, he found work as a modeler for a series of Parisian contractors. In his spare time, he worked on his own art.¬†
In 1862, Rodin's sister, Maria, died suddenly, and Rodin, laid low with grief, entered the order of the Congregation of the Blessed Sacrament. He left in 1863. Later, he signed on as an assistant with the painter and sculptor Albert-Ernest Carrier-Belleuse. 
In the early 1870s, he went with Carrier-Belleuse to Brussels; by the mid-1870s, he had become a well-known sculptor in his own right. 
"Exploring this realm beneath the surface," write the curators of the Rodin Museum, in Philadelphia, "Rodin developed an agile technique for rendering the extreme physical states that correspond to expressions of inner turmoil or overwhelming joy. He sculpted a universe of great passion and tragedy, a world of imagination that exceeded the mundane reality of everyday existence." 
From 1880 to the early years of the 20th century, Rodin created some of his most famous works: "The Kiss" (which depicts a scene from "The Inferno"), "The Burghers of Calais," "The Gates of Hell," and "The Thinker," which was first exhibited in 1904. Initially, "The Thinker" was placed in front of the Pantheon, an old church in the French Quarter of Paris; in the 1920s, it was moved to the newly-established Musée Rodin. 
Rodin died in 1917, at the age of 77, in Meudon, a suburb of Paris. But his legacy lives on today. 
Again, from the Website of the Rodin Museum: "The hallmarks of Rodin's style 'Äď his affinity for the partial figure, his focus on formal qualities and relationships rather than on narrative structure, and his desire to retain the marks of the sculptural process on his finished works 'Äď were revolutionary in his time. The evocative intensity of his works were elaborated on by countless artists who followed him."¬†
---