Nintendo Wii U game roundup: Super Mario, Batman, ZombiU
(Read article summary)
The Nintendo Wii U launched this week alongside several highly anticipated games, including New Super Mario Bros. U, ZombiU, and Batman: Arkham City – Armored Edition.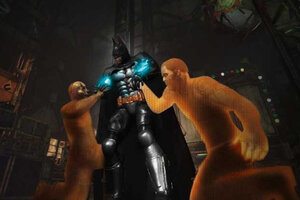 Nintendo
It's finally here – the Wii U.
Gamers have anxiously waited for Nintendo's newest console. But now comes the important question: Are the new Wii U games reason enough to buy the new system right now?
It's no surprise that one of the first games released for Wii U revolves around the heroic adventures of Nintendo's most beloved brothers, Mario and Luigi. In New Super Mario Bros. U, the Bros. have to once again save Princess Peach from the evil clutches of Bowser and the Koopalings. Get ready for an old-school, side-scrolling game in the style of New Super Mario Bros. Wii and the classic games that defined the Mario series.
Richard George of IGN says the new title "captures that carefree adventure many of us felt as kids." The game still has a lot of challenge to it, he says. However, the weak graphics and "irritating, chaotic, bouncy multiplayer mode" from the Wii game still exist.
Is this the "same old Mario"? You bet, says Mr. George. For some fans, that's all they need to hear. But the Wii U game brings something new to the platform, a Challenge Mode. Here, players are thrown into levels with near-impossible tasks, such as traversing an entire level without killing an enemy or not touching the ground.
"That even some of the simplest tasks will cause you to throw down your controller in frustration – and then immediately pick it back up to try again – is precisely what the Mario series has needed," says George. IGN rated it a 91 out of 100.
---