Copyright Alert System: Six strikes and you're out
(Read article summary)
This week the entertainment industry and American ISPs rolled out a system that aims to curb illegal media downloads. The system is designed to first notify users of copyright infringement, and then to curtail Internet connectivity in response to repeated offenses.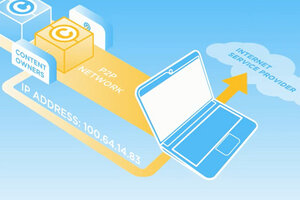 Youtube
The "Copyright Alert System," a six-part warning scheme aimed at curbing illegal downloads of music and movies, rolled out this week with the support of the "big five" American Internet providers -- AT&T, Verizon, Comcast, Time Warner, and Cablevision. The system is designed to gradually warn, and eventually penalize, those suspected of pirating content over peer-to-peer networks.
The entertainment industry has been grappling with the question of how to curb illegal downloads for years now -- since the days of the Napster downloading proto-service, in fact. The "six strikes" policy is the result of cooperation between film and recording industry representatives and American ISPs, and is designed to educate downloaders about copyright infringement, rather than suing or fining suspected pirates.
Here's how the system operates: when a content owner -- say, a movie studio -- detects that its work is being shared on a peer-to-peer network, it makes a note of the IP address that's sharing the file and contacts the ISP that services that address. The ISP then notifies the user with that IP address about the apparent copyright infringement. "Initial alerts are merely educational, letting the user know that unauthorized content sharing was detected on their Internet account," explains the Center for Copyright Information in a video.
---