Facebook scoops up Atlas. More social ads incoming?
(Read article summary)
Facebook bought Atlas, an advertising tracking and management company, from Microsoft this week for an undisclosed sum. Facebook is likely hoping to improve the precision of its own ads, and perhaps to launch an ad network to rival Google's.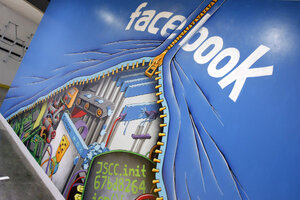 Paul Sakuma/AP/File
Facebook has a mountain of data on its users' activities, locations, and other data -- which allows it to serve up advertisements that are pretty narrowly tailored to individual tastes. Now that ad-focusing ability could get even better.
On Thursday, the company announced it will buy Microsoft's "Atlas," an business that helps companies buy, manage, and track ads.
What will Atlas do for Facebook? Neither company has laid out specific plans yet, but the first part of the theory is that better data will lead to more advertising dollars. Facebook has been working for a while to increase its ad revenue -- especially on tablets and phones -- and Atlas brings some powerful data tracking features to the table, which would allow Facebook to better measure how effective its ads are.
Peter Kafka at AllThingsD predicts (based on intel from "smart folks who have some skin in the game") that once Facebook can prove the value of its ads, it'll be able to increase ad pricing.
---