No time for that Facebook post? Save it for later.
(Read article summary)
The social networking giant rolled out a new feature on Monday that lets users save Facebook posts in their newsfeed to read later.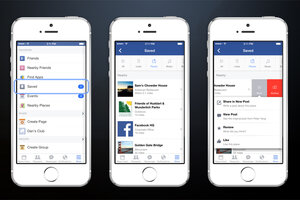 Facebook
Ever had one of those moments where you're scrolling through your Facebook newsfeed and you saw a post that piqued your interest but, say, your boss had just appeared behind you and you had to quickly close Facebook? Well, now you can save those posts for later. 
The social networking giant announced Monday a new feature appropriately titled "Save" that lets users save items they find on Facebook to return to at their leisure. Items could include links, places, movies, TV, or music.
"Every day, people find all sorts of interesting items on Facebook that they don't have time to explore right away. Now you can save items that you find on Facebook to check out later when you have more time," reads an official blog post announcing the feature. 
The items that get saved remain private unless users decide to share them with others. Saved items will be available to users in the "More" tab on Facebook's mobile app and on the left hand side of Facebook for the Web. 
This feature would seem to give users a degree of autonomy over the content of their newsfeeds. That counters the prevailing Facebook narrative of the past few weeks, which has revolved mainly around the results of an experiment imposed on nearly 700,000 Facebook users that manipulated the content of their news feeds to determine whether social networks can trigger "emotional contagion." The answer to that question, to a degree, is yes. 
Reaction to news of the experiment produced dismay at what many viewed as a blatant breach of Facebook's trust with users; Facebook justified the experiment by pointing to a part of its policy agreement with users that allows for this type of research. Still, the study was "poorly communicated," Facebook COO Sheryl Sandberg said in an apology. 
While anger over the survey has died down in recent days, it did spark reactionary efforts, notably in the form of the "99 Days of Freedom" campaign, a nonprofit initiative that is challenging Facebook users to abandon the social network for 99 days to experiment with living a disconnected lifestyle. Â 
This also follows the announcement of a new Facebook feature announced last week that lets users buy items directly from their news feeds through "Buy" buttons placed on the bottom right corner of Facebook ads. With that feature, Facebook joins competing sites such as Twitter, which has also recently released a "Buy Now" option to let users buy items directly from paid-for tweets. 
The "Save" feature will be available to Facebook users on the Web, iOS, and Android over the next few days. 
---