Apple's Mac App Store now open for business
Mac App Store brings the simplicity of Apple's iPhone marketplace to home computers. But will the Mac App Store take off?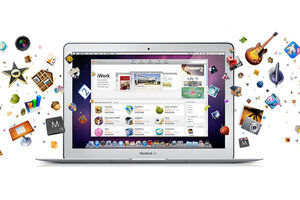 Apple/Screen shot
Apple Inc is launching a Mac App Store for its line of personal computers, replicating a model that proved wildly popular on its iPhones.
Apple is hoping to capitalize on Macs' surging sales as it aims to change the way software is sold for its computers -- centralizing distribution, simplifying discovery and leaving Apple as a gatekeeper of sorts.
The Mac App Store, similar to the iPhone App Store and linked to iTunes accounts, went live Thursday offering more than 1,000 apps, or programs. The store is launching in 90 countries with paid and free apps in areas such as games, design and education.
IN PICTURES: Apple's iCandy
Phil Schiller, Apple's senior vice president of marketing, highlighted the ease of use of the store, which he said will be familiar to anyone who has bought iPhone apps.
Apple hopes to lure new software developers to the Mac, Schiller said, and simplify access to programs, which users currently buy in disk format or download from websites.
He said the success of the iPhone app store "absolutely exceeded our expectations," but declined to make any predictions for the Mac store.
Long-time Apple watcher Tim Bajarin of Creative Strategies called the Mac app store "an important milestone for the industry that puts a nail in the coffin of shrink wrapped apps and moves them now to direct downloads."
He predicted that Apple's PC rivals will move to adopt a similar model.
---