iPad newspaper arrives Wednesday. Can it survive?
News Corp. will likely launch an iPad newspaper today. Reports say "The Daily" will only come on iPads and will cost money to download. Can an iPad newspaper last when so much free news exists online?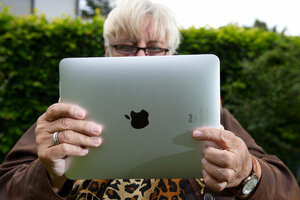 Newscom
Sources who have seen News Corp.'s iPad newspaper, The Daily, tell All Things Digital's Peter Kafka that the app is "both old fashioned and cutting edge." In that way, it sounds a lot like Rupert Murdoch, a man with newspaper ink for blood but who, for example, saw the potential for satellite television way before others did.
As The Daily prepares for its hoopla-filled launch Wednesday at the Guggenheim Museum in New York, pundits are debating the app's chances in a news-soaked marketplace, and details are leaking out. For example, The Poynter Institute's Damon Kiesow has amassed a partly speculative, but fairly exhaustive list of the publication's editorial staff, which includes former employees of the New York Post, the Associated Press, The Atlantic, AOL News, and lots of other national publications.
---