iPhone tracking: Why does Apple keep tabs on you?
iPhone tracking shows everywhere you've been. Why would Apple save this information?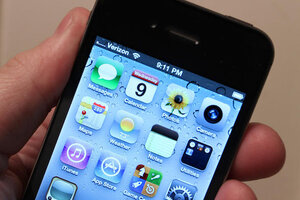 Newscom
Apple's iPhone and iPad devices have long been storing positions and timestamps in a hidden file on the user's computer. That's according to developers Alasdair Allan and Pete Warden, who reported their finding at the Where 2.0 conference Wednesday in Santa Clara, Calif.
Allan stumbled on the discovery while looking through iTunes' backup files on his computer. Author of the book "Learning iPhone Programming" for O'Reilly Media, Allan came across "consolidated.db", a backup file updated whenever a user syncs their iPhone or iPad with iTunes. Sequenced in a simple database, the file contained thousands of regularly gathered datapoints of the user's latitude-longitude coordinates and timestamps, which for some phones have dated back to as much as a year.
---