Netflix streaming makes up 22 percent of Internet traffic
Netflix streaming accounts for more than a fifth of all North American Internet traffic during prime times.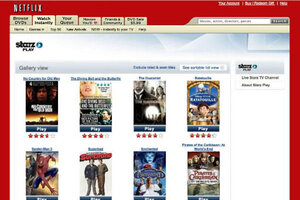 PRNewsFoto/Netflix/File
Just in case you weren't sure how popular movie streaming has become, a new study shows that Netflix alone is responsible for the largest portion of Internet traffic in North America. In fact, Netflix streaming produces the same amount of traffic as normal Web browsing and YouTube videos combined.
Sandvine, a network equipment vendor, reported the results of their study that shows Netflix movie and TV show streaming accounts for 22 percent of all North American Internet traffic, while standard Web page browsing accounts for just under 17 percent and YouTube videos make up 8 percent.
RELATED: Netflix: The next HBO?
"The dramatic growth of Netflix and its impending global expansion are prime examples of a growing appetite for real-time entertainment," Dave Caputo, president and CEO of Sandvine, said in a statement.
The growth is quite apparent when looking at "primetime" usage, in other words the percent of traffic during peak usage hours. Sandvine found that Netflix accounted for 30 percent of all Internet traffic during peak usage times, fully 10 percent higher than it was in the last report in October 2010.
The data show that not only is Netflix the single largest consumer of bandwidth, it's also an entertainment revolution. Those peak hours are times when people could be using any number of media outlets, on or off the Internet, and a large majority of those people are turning to Netflix.
---