Steve Jobs plans for a comeback at WWDC next week
Steve Jobs, who is currently on medical leave from Apple, will take the stage to deliver the Apple WWDC keynote. What does Steve Jobs' return say about his company?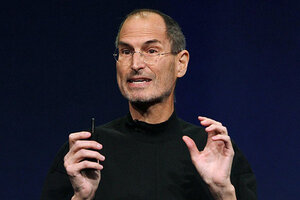 Beck Diefenbach/Reuters/File
Apple CEO Steve Jobs will take a break from medical leave to deliver the keynote speech at next week's Apple WWDC conference, the company said Tuesday.
The keynote will feature a new "iCloud" service, the company said. It didn't explain what the service will do, but Apple has been in talks with all four major recording companies on allowing users to store their songs on Apple-run servers rather than on their home PCs, according to a person familiar with the matter.
The person was not authorized to speak publicly on the deals and spoke recently on condition of anonymity.
Jobs went on medical leave in January for unspecified reasons, handing over day-to-day control to chief operating officer Tim Cook. Investors were rattled because Jobs is seen as the creative force behind the company, crucial to shaping hit products like the iPod, iPhone and iPad.
Even while on leave, Jobs has remained involved in larger decisions at the company, and demonstrated the new iPad model at a news conference in March.
Apple shares rose $10.42, or 3.1 percent, to close at $347.83.
Apple's annual Worldwide Developers Conference kicks off Monday in San Francisco.
Jobs decision to appear at the conference indicates he believes iCloud will be another breakthrough service for Apple.
---