Groupon IPO: Why the company lost half of its expected value
Groupon IPO was expected to value the company at $20 billion. Now it's $10.8 billion. Could a Groupon IPO show cracks in the company?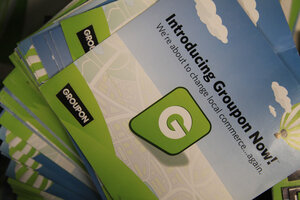 Charles Rex Arbogast/AP
Groupon Inc plans to raise as much as $540 million in an initial public offering, less than previously planned, as the daily deals website grapples with a weak equities market, executive departures, and questions about its accounting and business model.
The company aims to sell 30 million shares, or less than 5 percent of the company, at between $16 and $18 each, according to a regulatory filing on Friday.
The midpoint would value Groupon $10.8 billion, far less than the $20 billion initially expected but still above the $6 billion that Google Inc offered to pay for the business last year.
Despite the lowered valuation, some analysts say Groupon's shares could still struggle when they come to market in November. They point to questions over the long-term viability of a company that faces fierce competition in a business that has low barriers to entry.
The fact that Groupon has changed its accounting twice under pressure from regulators, and lost two chief operating officers this year, also has not instilled confidence.
"This offer strikes me as very, very unattractive," said Josef Schuster, founder of Chicago-based IPO research and investment house IPOX Schuster. "I think it's over-valued.''
He said the scaling back of the IPO and the small float suggested more shares could be offloaded later. Depending on demand, the IPO will raise between $480 million and $540 million, compared with a previous target of up to $750 million.
The online daily deal industry has exploded into a multibillion-dollar business since Groupon was launched in late 2008. That growth has attracted hundreds of rivals, including giants like Google and Amazon.com Inc.
Brad Gastwirth, co-founder of ABR Investment Strategy, an independent research firm that focuses on technology and healthcare, said the lowered valuation will help the IPO, but he cited concerns about whether Groupon can diversify revenue sources and shift to higher margin products.
---