Mark Zuckerberg, Harvard dropout, returns to open arms
Mark Zuckerberg heads to Harvard University to recruit new Facebook employees. The school welcomed Mark Zuckerberg is encouraging more students to dropout?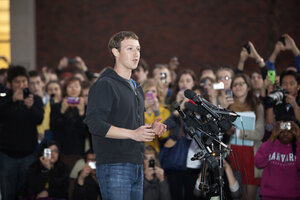 Harvard University/AP
Facebook creator Mark Zuckerberg left Harvard University as a dropout with a novel idea. He returned Monday with a triumphant message: He's hiring.
The 27-year-old CEO received a rock-star welcome during his first official visit since he left for California's Silicon Valley in 2004. He made his recruitment pitch to 250 students at Harvard after a similar meeting at the Massachusetts Institute of Technology.
"We're just getting started," he told reporters and a few hundred students who gathered at the Harvard campus to catch a glimpse of the Internet pioneer. "The next five or 10 years are going to be about all the different products and industries that can be rethought."
So many students turned out to see the sweatshirted billionaire outside a university library that campus officials had to set up temporary barriers to separate him from his audience.
Aaron Perez, an 18-year-old freshman from New York, said Zuckerberg's creation was one of the reasons he chose to study computer science. He said he's encouraged to hear that companies are hiring computer programmers in today's struggling economy.
"It's an empowering story, especially these days," said Perez, who risked being tardy to rowing practice to see Zuckerberg. "It makes it seem like I've got a chance."
Harvard computing officials were working on their own university wide online directory when Zuckerberg created Facebook as a campus-only social network. The then-sophomore told the campus newspaper, The Harvard Crimson, it was silly that the university needed years to create the site.
"I can do it better than they can, and I can do it in a week," he said.
An earlier Zuckerberg creation, Facemash, almost led to his expulsion after he hacked university computers for student photos.
But there were no hurt feelings Monday, as university officials and faculty welcomed Zuckerberg back to campus for the official visit. Zuckerberg has returned to Harvard before on informal recruiting trips.
---