New Yahoo CEO Scott Thompson cuts 2,000 jobs
Yahoo CEO Scott Thompson announced the company would be laying off 2,000 employees on Wednesday in order to take the "next step toward a bold, new Yahoo."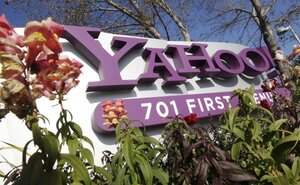 AP/File
Yahoo is laying off 2,000 employees as new CEO Scott Thompson sweeps out jobs that don't fit into his plans for turning around the beleaguered Internet company.
The cuts announced Wednesday represent about 14 percent of the 14,100 workers employed by Yahoo.
The company estimated it will save about $375 million annually after the layoffs are completed later this year. Yahoo will absorb a pre-tax charge of $125 million to $145 million to account for severance payments. The charge will reduce Yahoo's earnings in the current quarter.
Workers losing their jobs will be notified Wednesday. Some of the affected employees will stay on for an unspecified period of time to finish various projects, according to Yahoo.
The housecleaning marks Yahoo's sixth mass layoff in the past four years under three different CEOs. This one will inflict the deepest cuts yet, eclipsing a cost-cutting spree that laid off 1,500 workers in late 2008 as Yahoo tried to cope with the Great Recession.
The previous purges under Yahoo co-founder Jerry Yang and his successor, Carol Bartz, boosted earnings. But trimming the payroll didn't reverse a revenue slump, which has disillusioned investors yearning for growth at a time when more advertising is flowing to the Internet.
The cuts are part of an overhaul aimed at focusing on what Thompson believes are Yahoo's strengths while also trying to address its weaknesses in the increasingly important mobile computing market.
---