What Mountain Lion offers Apple OSX users
Mountain Lion went on sale today for $20, downloads only. Mountain Lion makes Mac personal computers work more like iPhones and iPads.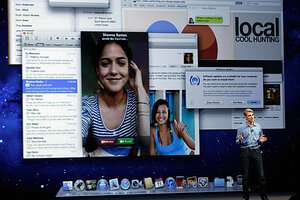 (AP Photo/Marcio Jose Sanchez)
Apple Inc. released its new operating system for Mac computers on Wednesday, with features borrowed from mobile devices and a tighter integration with online file storage.
Dubbed Mountain Lion, the new software narrows the gap between the PC and phone software packages, making Mac personal computers work more like iPhones and iPads.
It's similar to what Microsoft Corp. is doing with its forthcoming Windows 8 system. That system, to be released Oct. 26, will bring the look and user interface of Windows Phone to PCs.
RECOMMENDED: 20 iPhone tips you should know
Mountain Lion costs $20 and is sold only as a download from the Apple App Store. Only computers running the two most recent versions of Mac OS, Lion and Snow Leopard, can be upgraded.
Macs bought on or after June 11 can be upgraded for free.
Apple previously announced Mountain Lion's features, but it hadn't disclosed the exact availability date until Tuesday's release of its earnings for the April-June quarter.
Among the features of Mountain Lion:
---