With Windows 8, Microsoft seeks to re-imagine PC industry
Microsoft CEO Steve Ballmer said that the new Surface tablet and the Windows 8 operating system will shake up the ailing PC market.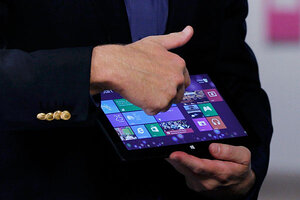 Lucas Jackson/Reuters
Microsoft Corp Chief Executive Officer Steve Ballmer expects the Windows 8 operating system to open a new chapter in the company's history and thrust it back into the forefront of technology.
"We've reimagined Windows and we've reimagined the whole PC industry," Ballmer told Reuters Television early on Thursday in New York ahead of a launch event for Windows 8 and the company's new Surface tablet, which both go on sale to the public on Friday.
"In addition to notebooks and desktops, we introduce the PC as tablet," said Ballmer. "Work. Play. Tablet. PC. Boom! One product."
The world's largest software company is desperate for the new-look, touch-friendly Windows 8 to grip customers' imaginations, as it looks to regain ground lost to Apple Inc and Google Inc in mobile computing and shake up the moribund PC market.
Microsoft is doubling down on its bet with its own tablet called the Surface, available only through its own stores and website, which will challenge Apple's iPad head on.
"We have a device that's uniquely good at being a tablet and a PC (with) no compromise on either one," said Ballmer.
---