Is the 'Internet of Things' the way of the future?
Imagine a world where you can control your coffeemaker from your tablet or turn off toys from your phone. That world is around the corner, according to tech industry CEOs.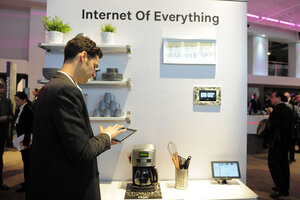 Manu Fernandez/AP Photo
A car that tells your insurance company how you're driving. A bathroom scale that lets you chart your weight on the Web. And a meter that warns your air conditioner when electricity gets more expensive.
Welcome to the next phase of the wireless revolution.
The first wave of wireless was all about getting people to talk to each other on cellphones. The second will be getting things to talk to each other, with no humans in between. So-called machine-to-machine communication is getting a lot of buzz at this year's wireless trade show. Some experts believe these connections will outgrow the traditional phone business in less than a decade.
"I see a whole set of industries, from energy to cars to health to logistics and transportation, being totally redesigned," said Vittorio Colao, the CEO of Vodafone Group PLC, in a keynote speech at the Mobile World Congress in Barcelona, Spain. The British cellphone company has vast international interests, including its 45 percent ownership stake in Verizon Wireless.
---