Online sales tax bill hits a potential firewall
A bill aimed at collecting sales tax for online goods has cleared the Senate. However, the House will prove to be a problem as many see the bill as a tax increase – something many Republicans pledged they would not do.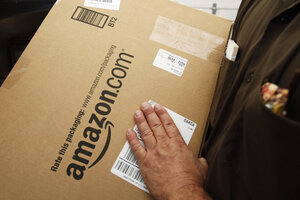 Paul Sakuma/AP Photo
A bill to require Internet shoppers to pay sales taxes for online purchases may be cruising through the Senate but it will soon hit a roadblock in the House.
"There's a lot of political difficulty getting through the fog of it looking like a tax increase," said Rep. Steve Womack, R-Ark., one of the main sponsors of the bill in the House.
The bill would empower states to reach outside their borders and compel online retailers to collect state and local sales taxes for purchases made over the Internet. Under the bill, the sales taxes would be sent to the states where a shopper lives.
Under current law, states can only require stores to collect sales taxes if the store has a physical presence in the state. As a result, many online sales are essentially tax-free, giving Internet retailers an advantage over brick-and-mortar stores.
Womack says the bill is not a tax increase. Instead, he says, it simply gives states a mechanism to enforce current taxes.
In many states, shoppers are required to pay unpaid sales taxes when they file state tax returns. But governors complain that few people comply.
The Senate voted 63-30 Thursday to end debate on the bill, though senators delayed a final vote on passage until May 6, when they return from a weeklong vacation. Opponents hope senators hear from angry constituents over the next week, but they acknowledged they have a steep hill to climb to defeat the bill in the Senate.
President Barack Obama supports the bill.
Senate Democratic leaders wanted to finish work on the bill this week, before leaving town for the recess. But they were blocked by a handful of senators from states without sales taxes.
Oregon, Montana, New Hampshire and Delaware have no sales taxes, though the two senators from Delaware support the bill.
---