Facebook might add your profile pic to a facial recognition database
To improve photo tagging recognition, Facebook considers creating a database of users' profile photos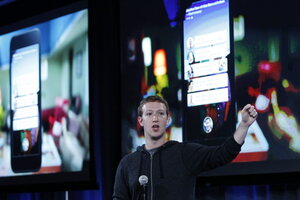 Robert Galbraith/ Reuters/ File
Facebook Inc is considering incorporating most of its 1 billion-plus members' profile photos into its growing facial recognition database, expanding the scope of the social network's controversial technology.
The possible move, which Facebook revealed in an update to its data use policy on Thursday, is intended to improve the performance of its "Tag Suggest" feature. The feature uses facial recognition technology to speed up the process of labeling or "tagging" friends and acquaintances who appear in photos posted on the network.
The technology currently automatically identifies faces in newly uploaded photos by comparing them only to previous snapshots in which users were tagged. Facebook users can choose to remove tags identifying them in photos posted by others on the site.
The changes would come at a time when Facebook and other Internet companies' privacy practices are under scrutiny, following the revelations of a U.S. government electronic surveillance program.
Facebook, Google Inc and other companies have insisted that they have never participated in any program giving the government direct access to their computer servers and that they only provide information in response to specific requests, after careful review and as required by law.
Facebook Chief Privacy Officer Erin Egan said that adding members' public profile photos would give users better control over their personal information, by making it easier to identify posted photos in which they appear.
"Our goal is to facilitate tagging so that people know when there are photos of them on our service," Egan said.
---