Bill Gates out as Microsoft chairman? Some investors say yes
Three key investors want Bill Gates to step down as company chairman as Microsoft stands at a post-Steve Ballmer crossroads.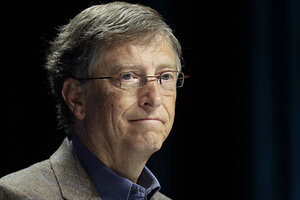 Ted S. Warren/AP/File
Three of the top 20 investors in Microsoft Corp are lobbying the board to press for Bill Gates to step down as chairman of the software company he co-founded 38 years ago, according to people familiar with matter.
While Microsoft Chief Executive Steve Ballmer has been under pressure for years to improve the company's performance and share price, this appears to be the first time that major shareholders are taking aim at Gates, who remains one of the most respected and influential figures in technology.
A representative for Microsoft declined to comment on Tuesday.
There is no indication that Microsoft's board would heed the wishes of the three investors, who collectively hold more than 5 percent of the company's stock, according to the sources. They requested the identity of the investors be kept anonymous because the discussions are private.
Gates owns about 4.5 percent of the $277 billion company and is its largest individual shareholder.
The three investors are concerned that Gates' presence on the board effectively blocks the adoption of new strategies and would limit the power of a new chief executive to make substantial changes. In particular, they point to Gates' role on the special committee searching for Ballmer's successor.
---