3-D glasses get a makeover
New home entertainment technology aims to transform a 3-D viewer's experience.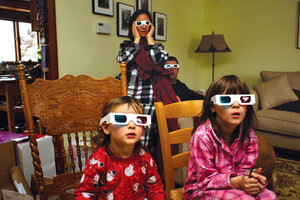 Photo by Joanne Ciccarello/Staff
It seems every year is heralded as "the year 3-D home entertainment will take off." Yet the moment never really arrives.
Last year saw huge strides for 3-D movies in theaters. Each of the seven top-grossing 3-D movies of all time came out in 2009. Atop the list sits "Avatar," which raked in more than $1.6 billion worldwide and became history's second biggest box-office hit in only a few weeks. And animation powerhouse Pixar, hungry for similar successes, stuck to its pledge to only make 3-D movies from now on.
This is great news for theatergoers, but there are very few ways to bring the extra dimension home with you.
Some ads, shows, or DVDs take advantage of the cheap, red-and-blue paper glasses that have been around for decades. But the effect pales in comparison to the thick-rimmed polarized lenses used in most theaters.
Blu-ray wants modern TVs to go a step beyond that. Last month, the group behind the high-definition discs finalized plans to let Blu-rays play movies in three dimensions. The setup requires a new Blu-ray player (older ones may not work), special TVs capable of flashing twice as many frames per second as normal, and "active shutter" glasses. The headgear, which for now looks like angular superhero goggles, rapidly cover and uncover alternating eyes in sync with the TV flickering between left and right images.
---