Social media and disasters: When a small post can spur hope
When social media is used during disasters, it can save lives and ease communities.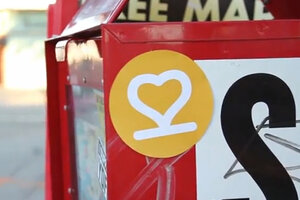 YouTube
Social media transforms into a tool when disasters hit. Twitter, Facebook, and other social networks spread information, allow people to know that their loved ones are safe, and assist in coordinating efforts. That's why organizations such as Sparkrelief and SF72 have popped up. They use the Internet and social media to increase preparedness, ease relief, and rebuild communities.
Eli Hayes founded Sparkrelief in 2010. He had dealt with disasters his whole life, having lived in earthquake-prone California and been a firefighter. However his inspiration for Sparkrelief came when a fire hit Boulder, Colo. At the time, Mr. Hayes was living in a house with enough room to shelter displaced people. So, in an attempt to help, Hayes headed to the local shelter to see what he could do. Upon his arrival, he was told that he could not offer to host people.
"We think that nobody should control the relief effort," says Hayes. "You don't have to be a government official, a charity, or a nonprofit. You can spark a relief effort."
That was seed for Sparkrelief, a name that embodies what the organization believes. By pooling together community efforts and social media, Sparkrelief provides disaster-stricken communities with food, shelter, medical services, transport services, animal sheltering, and other relief resources.
How does it work? People can register and log into the Sparkrelief.org website. There, an interactive map pinpoints the location of different disasters around the world. A menu appears that lets people click on a disaster. People hit by a disaster can select what they need, whether it be food or something a little trickier, such as finding a place for a family of four with children, pets, and allergies. On the other end, volunteers (other users) can respond to requests. All in all, Sparkrelief.org allows people to find aid within a few clicks.
More than 1,000 food offers were made within Sparkrelief's first 10 days.
Now, Sparkrelief.org can see as many as 500 people per day during non-emergency periods but as many as 10,000 people in an hour during a disaster. People can volunteer or seek aid online, via Twitter, e-mail, or over the phone.
---