How loony is the Google Loon project?
Google Loon is a project to bring the Internet to forgotten corners of the globe using balloons. Will it fly?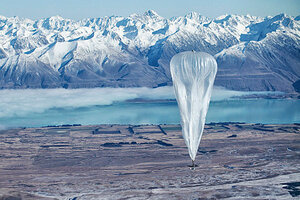 (AP Photo/Jon Shenk)
Google's Project Loon may sound crazy, but it has a lofty mission: To bridge the gap between the Internet haves and have-nots.
By using balloons. Really.
Google figures that for each person that can get online, there are at least two who can't. That's almost 5 billion people without access to the Internet. And many of those who can't get online are in rural areas where installing fiber-optic cables or accessing the Internet via satellites is prohibitively expensive.
That's why Google Loon was in Christchurch, New Zealand, on Saturday doing their first big test of the concept.
Here's how it works. Large weather-type balloons (49 feet in diameter) are floated at an altitude of 12 miles above the Earth, well above where commercial aircraft fly. A series of stations on the ground (about 60 miles apart) bounce signals off some 300 balloons carrying solar-powered radio transmitters, which also communicate between balloons. The high-altitude balloons circle the globe untethered, riding the winds along the 40th parallel. The balloons could be steered, somewhat, "by tweaking altitude to find wind currents whooshing in the right direction. Google, which is pretty good at computation, could use the voluminous government data available to accurately simulate wind currents in the stratosphere," according to an article in Wired.
Google calculates that each balloon could provide Internet access to an area twice the size of New York City - about 1,250 square kilometers.
---