Myanmar unlocks one of Asia's last untapped cellular markets
Myanmar awards cell phone contracts to Norwegian Telenor and Qatari Ooredoo.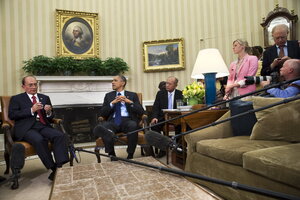 Jacquelyn Martin/AP
Myanmar, also known as Burma, announced the two winners of a bidding contents for its nationwide cellphone contracts. The move will give Norwegian Telenor and Qatari Ooredoo access to one of Asia's last untapped cellular markets.
The Myanmar government's Thursday announcement is part of its effort to raise the country's cellphone penetration rate to 50 percent by 2016. Currently, an estimated 9 percent of Myanmar's nearly 60 million people have access to mobile devices.
The 15-year wireless license begins in September.
According to a report by consulting firm McKinsey & Company, making technology readily available in Myanmar is the first step toward building an environment that can attract strong international investment.
The rapid introduction of consumer cellphones that the government has planned will signal a great change for Myanmar. Filmmaker Robert Lieberman remembers the difficulties of getting a cellphone in Burma five years ago, when he began working on his documentary, "They Call It Myanmar."
"I would call somebody and hang up, and then they would call me back," he says. As a foreigner in 2008, Mr. Lieberman could spend $20 to buy a SIM card (the chip that allows most cellphones to connect to a company's cellular network), but then the number stopped working after the $20 ran out. Texting wasn't even an option, he says. Back then, it was about $1,500 to get a cellphone if you were Burmese.
By 2012, the price had dropped to $250, and as of April, government issued SIM cards are sold for $1.60. But the cards can only be obtained through a lottery system, and the average daily wage is about $2, he says, meaning that SIM cards are still a rare luxury item.
---