Whose rules apply to the Web?
Sites go to extraordinary lengths to stay legal in a world where taboos vary.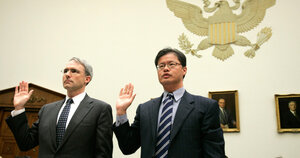 Hyungwon Kang/Reuters
The idea seemed like an obvious next step for profiting from online social networks: advertisements displayed on the side of individual Facebook home pages using pictures and names of friends to promote products.
For example, an ad for Blockbuster would hype that your friend "Meghan Marks gave a four-star rating to the movie 'Top Gun.'" Haven't seen it? Well, if Meghan likes it, perhaps you should rent it tonight.
But Facebook's new ad scheme has hit a snag – it might be illegal.
A century-old New York privacy law bans advertisers from using anyone's name or picture without written consent. Running such an ad in the Empire State is a criminal misdemeanor, says William McGeveran, a law professor at the University of Minnesota in Minneapolis.
The situation points to a larger question many dotcoms are now facing: Since websites can be displayed on screens anywhere in the world, does that mean they are beholden to the laws in every state and every country?
"When you put anything up online, you're not just sending it to New Jersey or to Australia. You're sending it everywhere," says Professor McGeveran. "It can be seen in countries with different ideas about speech and privacy – countries that don't have the First Amendment."
---