Online social networks try to play nice with others
Facebook, MySpace, and Google take stabs at being more open to rival sites, but will the walls truly come down?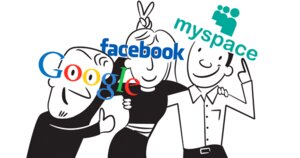 Scott Wallace – Staff
Imagine a Web where your profile comes with you. Rather than manage contact info, friend lists, and descriptions of yourself across several websites, you'd maintain an overarching account that would be open to whomever you like.
For years, "open Web" enthusiasts have argued the importance and inevitability of a shift away from the "walled garden" atmosphere of social networks such as Facebook, and toward a more connected Web. This way, your information belongs to you, not your social networks.
This month, MySpace, Facebook, and Google consecutively announced their stabs at a more open Web.
MySpace's Data Availability and Facebook Connect look almost identical: The social networks will share their users' information with a few partner sites so that when someone updates his profile, those changes are automatically reflected on all the other sites. Friend lists will also follow you, although the details are murky at this early stage.
Google's Friend Connect looks a bit different: Since the search giant lacks a major social-networking hub, Google has decided to basically lend its programming code to any website that wants social features. A user can go to a participating website, sign in using an account ID (from Googletalk, Orkut, and Hi5 for now – the latter two being popular networks abroad), and view, invite, and mingle with friends through the site.
Google launched a trial of Friend Connect with a few small websites, including the home page of indie musician Ingrid Michaelson.
Before plugging into Friend Connect, Ms. Michaelson's site was little more than a place holder for information, says Lynn Grossman, the pop artist's manager. Her music was primarily marketed through social networks, which were great for attracting new listeners, but Ms. Grossman had little control over the information presented to potential fans, not to mention the ads that MySpace and Facebook stick on the pages.
---