In Olympian swimsuits, threads of history
The full-body LZR Racer is seen as a breakthrough in reducing drag. Suits have changed dramatically in recent decades.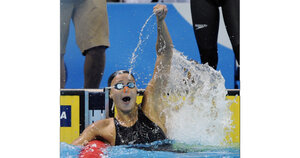 Nati Harnik/AP
All the talk is technology. NASA was consulted. Records are falling like so much ticker tape at a gold medalist's victory parade. Then there's the lawsuit – which is not to be confused with the swimsuit.
Just about everyone here at the United States Olympic swim trials has been jabbering about what the candidates for the Beijing Games are wearing. For women, it's the full-body Speedo LZR Racer. For men, it can just be long-john-like tights. Swimmers are gushing about how it's making them faster, more-efficient missiles through the chlorine.
Speedo has shamelessly boasted in breathless releases about the depth of research – tapping everyone from the National Aeronautics and Space Adminstration to software firms – involved in creating the suit.
Michael Phelps, who kicked off the trials Sunday night with a world record in the 400-meter individual medley, wore the LZR bottom, but no top. "The suit really is amazing," said the six-time 2004 gold medalist. Indeed, through Tuesday night, 44 world records in swimming have fallen since Speedo introduced the suit in February.
Mr. Phelps, who is under contract to Speedo, said after his thrilling 400-meter victory: "It does give you that extra tenth or hundredth [of a second] that you need to break a record.''
The suit, seen as a major technological leap, is said to reduce drag. It has no seams; the three parts of the full-body suit are glued, not sewn, together. It is also constructed to compress the swimmer's core muscles, rather like a girdle, creating a more sleek object through the water.
---