Many new 'friends' to be made online, but what about dollars?
Social network websites are booming. If only they could turn a profit.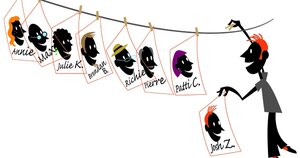 John Kehe – Staff
They like to meet, chat, make friends and business connections. They post photos and videos. They share their passion for a celebrity, hobby, or cause. But what they usually don't want to do is shop.
Visitors to social network sites represent a lucrative market. The largest, MySpace, can claim 73 million users in the United States alone. And No. 2 Facebook has 37 million, according to ComScore, which measures online activity. Fast-growing Facebook alone recently was valued at $15 billion.
But so far those impressive visitor numbers have yet to translate into a financial bonanza for the sites. While observers agree the potential is there, they also say that the very nature of advertising and marketing may have to evolve if it is going to capture the attention of people who are looking not for goods and services but for each other.
Last spring, eMarketer, which studies advertising on the Web, downgraded its ad sales projections for both MySpace and Facebook by more than 10 percent for the fiscal year that ended June 30.
Even Google has failed to extend its golden touch to social-networking sites. In 2006 Google paid MySpace $900 million to place ads on its pages. The search giant also operates its own social network, Orkut, which has been growing, especially outside the US.
---