Across Irish Sea: two bold tactics against music piracy
Isle of Man considers unlimited downloads as Ireland pulls plugs.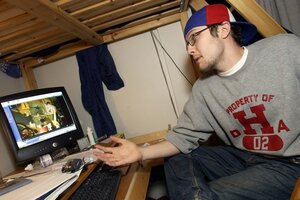 Michael Manning/AP/File
Birch lashes used to be how the Isle of Man punished misdemeanors, but 16 years after the island repealed its "birching" law, it is dealing with the crime of Internet piracy in an equally novel way: by accepting defeat.
Rather than police the Internet for illegal activity, the Isle of Man has proposed a radical new tax of £1 ($1.45) per week that will be paid directly to recording companies to allow its citizens unlimited downloads of music.
Meanwhile, across the Irish Sea, record companies in Ireland have reached a landmark agreement with the country's largest Internet service provider in the battle against piracy. Customers found guilty of illegal downloading now face the ultimate horror: disconnection from the Internet.
Ireland and the Isle of Man might be just 50 miles apart, but their strategies for dealing with illegal downloading represent polar opposites within the record industry. The experiments taking place on these two islands are being watched closely, with the results likely to influence public policy far beyond this rainy, wind-swept corner of Europe.
The music industry is desperate for a solution: Global music sales are down a quarter since 2000 and the vast majority of music distributed on the Internet is now pirated, according to the recording industry's leading trade group.
The Isle of Man's approach
A small island of 80,000 people between Ireland and Britain, the Isle of Man has been self-governing for over 1,000 years, with the oldest continuous parliament in the world. Queen Elizabeth II (known as the "Lord of Mann") may be the official figurehead, but the island isn't part of the United Kingdom or the European Union.
---