Interactive fashion lets costumers wear devices on their sleeves
Does this computer come in a Size 6?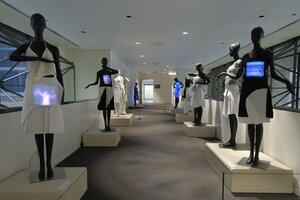 Courtesy of James Prinz/Anke Loh
The solar panel in your winter coat warms your back. An LED light on your skirt warns passers-by to give you room on the sidewalk. The display on your eyeglasses flashes the temperature after you slip them on.
Already hanging in designers' studios, these curious clothes may soon make their way into America's wardrobe. Interactive fashion, the intersection of electronics and apparel, is a relatively new school of design. Engineers and couturiers, two parties that previously knew little about each other, are locked in intense collaborations today to reshape the role clothing plays in daily life.
As modern culture embraces mobile phones in our pockets, Bluetooth headsets in our ears, and Nike odometers in our shoes, the logical next step is wearing devices on our sleeves, says Tiffany Holmes, chair of the art and technology department at the School of the Art Institute of Chicago, one of the few schools in the United States that offers classes on wearable technology.
"Fashion is about the latest trends and styles, so it really makes a lot of sense this is happening now," she says.
As Ms. Holmes sees it, with young consumers wearing white headphones as often as earrings, they will soon require apparel to streamline their digital needs.
"One of the things about Western culture is, if we have access to information that is deliverable to our bodies, we will want that," says Holmes. "Changes in clothing are not that far off."
Interactive fashion has been around for as long as kids' shoes came with blinking lights in their soles and sportswear featured hidden pockets for music players.
---