Record labels eye mobile music games
As CD sales falls, bands find new market among gamers.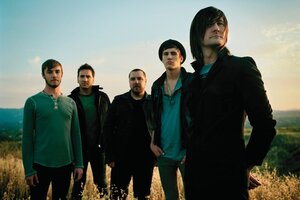 Courtesy of James Minchin
Three neon bars, a cascade of fast-moving dots, and a bumptious pop soundtrack, piped through an undersized speaker or a pair of headphones. That's the spare formula behind Tap Tap Revenge, a video game for the iPhone and iPod touch, which has become in recent months one of the most popular applications ever distributed through Apple's online iTunes store.
According to figures provided to the Monitor by Tapulous, the Palo Alto, Calif.-based creator of Tap Tap Revenge, the game has been downloaded by more than 6 million unique users. (Approximately 100,000 "paid" versions of "Tap Tap Revenge" have been sold, the company says.) It's a stunning number for a relatively simple rhythm game – the gameplay is similar to that of the Guitar Hero and Rock Band franchises – and bodes well for the burgeoning mobile game market.
---