Netbooks, smart phones: Is more convergence ahead for mobiles?
As laptops get smaller and cellphones get more powerful, will they eventually become the same device?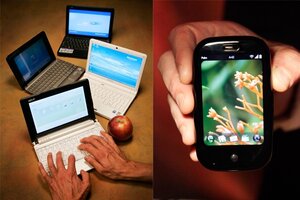 Left: Newscom; right: AP
Will pants with really big pockets be a high-tech fashion statement in the next few years?
While cellphones and computers in general have suffered sales setbacks recently, high-end smart phones and low-end netbook computers remain two of the hottest electronic devices on the market. Might the gap between them someday be filled by a device that combines the best of each?
In some ways, the two products are already beginning to merge. The cost is becoming similar, with the priciest smart phones now more expensive than the cheapest netbooks (about $300). Wireless carriers are beginning to add netbook plans, plunging the cost of a netbook with a service plan to as low as $50, similar to discounted phones if users sign up for a contract. Manufacturers are beginning to put smart-phone chips and operating systems, such as Google's Android, into netbooks. Meanwhile, netbook manufacturers such as Asustek are planning to make smart phones.
Both products are trying to satisfy the same need "to have something small, portable, and inexpensive with you that is always connected" to the Internet, says Rob Enderle, principal analyst at the Enderle Group in San Jose, Calif.
---