Flip Video succeeds with simplicity
Small, no-frills device is the point-and-shoot of video cameras.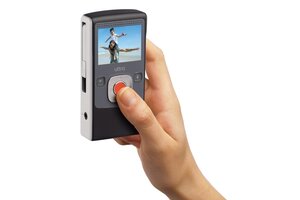 Flip Video
Most people haven't the foggiest idea how to upload a video to YouTube. While the site has become a phenomenal hit, thanks to user-generated clips, the audience is still split 95-5 – where about 5 percent of people share their work and the rest just sit back and enjoy it.
Flip Video wants to tip that balance.
Over the past two years, this line of tiny video cameras has tried to change the way millions think about camcorders and remind the bigger-faster-louder crowd about the virtues of simplicity.
Flips aim to be the point-and-shoots of video cameras. Designed for pockets and purses, all four of the Flip models fit the dimensions of a bar of soap. And their prices match their frames – ranging from $150 to $230.
Recording is a breeze: Hit the red button once to start. Hit it again to stop. When you're ready to share, a USB connector pops out of the side. Flip's software lets you organize, lightly edit, and easily post your clips to YouTube. Or, if YouTube is too public for you, Flip last week unveiled invite-only "channels." Friends and family can log on to these private websites, and you decide who's on the list.
This spring brought the newest member of the Flip family, the Ultra HD. Its bigger (but still pretty tiny) body crams in enough memory for two hours of high-definition video, room for a rechargeable battery or disposable AAs, and an HDMI jack to hook up the camera directly to a big-screen TV.
If you're looking for a Flip with a little more flavor, both the Flip Mino and Mino HD allow for custom designs. TheFlip.com lets you upload an image that the company will print onto the face of the camera at no extra charge. (Perhaps your baby will look at the camera more often if a cartoon face is smiling back at her.)
---