Secrets to blogging fame from Julie Powell
Powell found more than an outlet with her "Julie & Julia Project." You can too.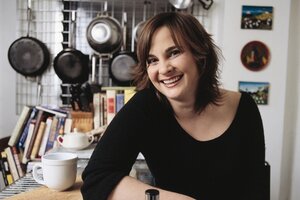 Little, Brown and Company/AP
Julie Powell says she wasn't thinking book or movie deal when she began blogging her recipe-by-recipe adventure through Julia Child's "Mastering the Art of French Cooking."
She was just looking for an escape from a series of dead end jobs that had put a damper on her dreams of becoming a writer.
But Powell found more than an outlet with her "Julie & Julia Project."
Her blog became a memoir, "Julie and Julia: 365 Days, 524 Recipes, 1 Tiny Apartment Kitchen," which was later, "Julie and Julia: My Year of Cooking Dangerously," which then became a movie — "Julie & Julia" opening Aug. 7 with Meryl Streep and Amy Adams as stars. (The movie is also based on Child's "My Life in France.")
"I had no idea what it was going to do for me when I started," Powell said of her blog, which she started in 2002 at age 29. "It was really sort of a personal project to cut out a piece of my daily existence, purely for me, that gave me a creative outlet so the rest of my life didn't seem so stultifying."
Few bloggers will come close to Powell's success, say blog experts, especially considering there are 133 million blogs afloat on the Web, according to blog search engine Technorati, which has kept track since 2002.
---