Lines blur between blogs, newspapers
A marriage made in cyberspace: As traditional media gets 'bloggier,' blogs begin to look more like their traditional forebears.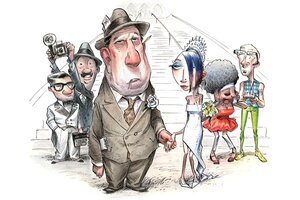 Dan Vasconcellos
When Jon Kleinberg wanted to study how news items bounced around the Internet, he set up an experiment. He tracked phrases in the news at the time – such as Barack Obama's colorful presidential campaign line about putting "lipstick on a pig" – and traced their use online. For comparison, he split his analysis into two parts: the 20,000 or so "mainstream" news sources, as identified by Google News, and some 1.6 million "blogs."
The conclusion: Attention seemed to peak first among the "mainstream" sites – on average about 2-1/2 hours before interest surged in the blogging community.
That finding, released in a paper by Professor Kleinberg and two coauthors in July, needed to be interpreted very carefully because Google's idea of the "mainstream" press includes numerous sites not affiliated with any newspaper or magazine. This new mainstream encompassed political talk sites such as the Daily Kos and celebrity gossip sites like Gawker and Just Jared. Bloggers appeared on both sides of the ledger.
Kleinberg, a computer scientist at Cornell University in Ithaca, N.Y., remains excited about this "meme-tracking" algorithm and its ability to view news cycles scientifically and discover complex underlying patterns, which he plans to refine. But he also says he probably won't try to divide "news" and "blog" sites in the future.
---