Beginner's guide to Skype
For some 500 million users, Skype turns their PC into a phone.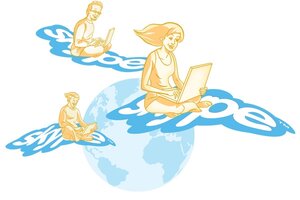 Rich Clabaugh/Staff
International calls can get mighty pricey. Perhaps that's why so many people use Skype, a free way to make calls – and even have video chats – all over the world from the comfort of their computer screens.
Skype isn't new. It launched in 2003 and now boasts 483 million registered accounts. But if you haven't tried it yet, don't fret. Here's what you need to know.
Essentially, Skype allows anyone to turn a computer into an "Internet phone." Rather than buying international phone cards or expensive global calling plans, Skype's users can cut out phone companies (and phone bills) altogether. Conversations are broken down into ones and zeros and sent over the Internet, much like instant messages or e-mails.
The company, headquartered in Luxembourg, is now partially owned by auction website eBay and Silver Lake, an investment group.
Recently, Skype has gained attention on Oprah Winfrey's show, where she's used the service to talk to people who can't join her in the studio. She has even devoted an entire show to Skype, setting up Web cameras for chats with researchers in Antarctica.
As you can imagine, Skype has many different uses. Some music and foreign-language teachers rely on the software to instruct students in distant or remote areas. Businesses strike international deals by
videoconferencing. Students studying abroad can keep in touch with family free of charge.
Interested? Here are the basics.
First, you'll need a computer with a microphone and speakers. If you're missing either, several companies make great hands-free headsets with built-in microphones.
---