Augmented reality: Your world, enhanced
Smart phones lead the way in augmented reality, blending real life with digital imagery.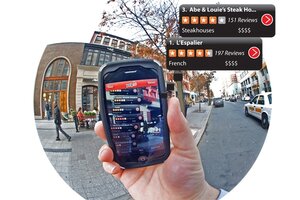 Sarah Beth Glicksteen/The Christian Science Monitor
Are you ready to see with "Terminator" eyes? That day may be coming closer.
The Terminator android from the future, as portrayed by Arnold Schwarzenegger in movies, employs enhanced vision that displays data about his surroundings, such as identifying objects, what they are used for, and how they work. "Terminator" vision even identifies people and suggests what to say to them.
This year has seen a huge spike in interest in the concept of "augmented reality" (AR) – the ability to blend data or virtual objects from the Internet with the "real world" we see around us. The question now is whether 2009 will be a tipping point toward a time when AR is routinely all around us, or whether it's a bubble of overheated hype that pops and disappears.
Perhaps the biggest change driving AR has been widespread adoption of smart phones, such as the iPhone and those based on Google's Android platform. These devices possess the technology needed to create a simple (some would say primitive) form of AR. By combining video cameras, GPS (global positioning systems), and compasses, smart phones can figure out their own location and in which direction they are being pointed.
That has allowed developers to begin sending virtual data to "augment" what's displayed by the phone's camera. Point the camera up a street, for example, and the screen would show the scene with other information "layered" on top, such as restaurant descriptions, where the subway stops are, or which apartments are for rent.
---