How Peter Carl Fabergé turned Easter eggs into precious art (+video)
Peter Carl Fabergé, the subject of Wednesday's Google doodle, created elaborate and opulent Fabergé eggs. These jeweled works of art have become so famous that it's easy to forget that they started out as Easter eggs.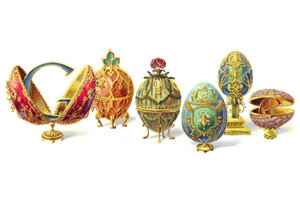 Google
Think of Easter eggs. What comes to mind? A whiff of vinegar? Chocolate wrapped in aluminum foil? Plastic shells with jellybeans inside?
Few people think of Peter Carl Fabergé, the subject of Wednesday's Google doodle. But his famous Faberge eggs – beautiful, intricate, and historic creations encased in precious metals and punctuated with jewels – started out as an Easter gift.
Fabergé's fortune is a true European story. He was trained in Germany, hired by Russian royalty, blessed with a luscious French name, and inspired by a Vatican-approved custom: the Easter egg.
Easter eggs didn't originate in Europe. Early Christians in Mesopotamia invented the practice long before the Pope officially sanctioned the idea in 1610. Originally, people stained chicken eggs red. The color represented the blood of Christ and the egg symbolized resurrection.
But by the late 1800s, when Fabergé became a full-fledged jeweler, Easter eggs had become much more. Some European aristocrats commissioned expensive jewelry-like eggs. They were pretty. Yet Fabergé was about to change the craft forever.
---