Peter Carl Fabergé: How Communism crushed the Faberge egg
Peter Carl Fabergé created a jeweled-egg empire, commemorated Wednesday by a Google doodle. But as the Russian Revolution toppled the Czar, it also upended the famous line of Imperial Faberge eggs.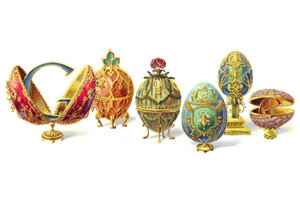 Google
Wednesday marks the 166th birthday of the legendary jeweler Peter Carl Fabergé. From 1885 to about 1916, he and his army of craftsmen made thousands of Faberge eggs. These works of gold, jewels, and enamel came to symbolize Russian royalty. And, as Wednesday's Google doodle shows, the name Fabergé still stands for opulence.
But the glamour associated with Faberge eggs seems lodged in the past. While a company named Faberge still makes eggs, they've lost their esteem, their unique flavor, and their Russian roots.
What happened? Blame the Soviets.
The original Faberge egg started as a gift for Easter, the most important day of the year in 1880s Russia. Czar Alexander III wanted to surprise his wife with a lavish Easter egg. Fabergé designed a golden egg with multiple hidden compartments, each with additional gold, diamonds, and rubies inside.
The gift was a smash hit. The royal family commissioned about 50 eggs over the next three decades, creating Fabergé's most important collection, the Imperial Easter eggs. Faberge's team created many eggs for other clients, but the Imperial line was the most elaborate, expensive, and coveted.
---