Why Clara Schumann would still be one of today's sassiest musicians
Why Clara Schumann, a Victorian pianist and composer, was way ahead of her time. Google paid tribute to Schumann on what would have been her 193rd birthday.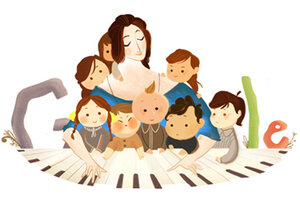 Google
Were she alive today, Clara Schumann would be one of the hippest female artists around. A gifted concert pianist, Schumann's biography busts open the corseted restrictions of the Victorian era with vibrant modern-day detail. Her innovative passion for music crumbled compositional boundaries with poetry, technical wit, and startling live performances, resulting in a career that spanned over six decades.
Not only did she defy the divisions separating work, performance, art as love, and family, she managed to do it all as a 19th century woman. Schumann's legacy was hot enough for Katherine Hepburn to play her in the 1947 flick, "Song of Love."
Born Clara Josephine Wieck in 1819, Schumann was raised by a working, divorced mother and debuted as a concert pianist at age 9. She was deemed a child prodigy to nobody's surprise. She even sued her own father in order to marry composer Robert Schumann and won in 1840, when she was 21 years old.
According to musicologist Nancy B. Reich, author of "Clara Schumann: The Artist and Woman," Schumann not only made more money than her piano-playing husband but she also fought to fulfill the roles of performer and wife. Before they were married, Mr. Schumann tried to coax her away from her love of music, writing: "And if you were to be forgotten as an artist, would you not be beloved as a wife?... The wife stands even higher than the artist," according to the New York Times. Evidently, Clara could not relinquish her love of music and continued to play.
---