Roswell UFO incident: Why we love alien visitors
Google commemorates the 1947 Roswell UFO incident on its homepage Monday, with an interactive homage to pop culture's friendly extraterrestrials.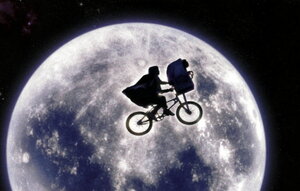 Amblin and Universal/ File
Nearly three decades ago, two large bulbous eyes peeked out from underneath the fringe of a borrowed dress-up wig, and a petite, though hardly elegant, rubbery creature reached its bejeweled, sallow finger to the skies and said, "Phone home." In that moment, Steven Spielberg's extraterrestrial charmed its two playmates– a young Drew Barrymore and Henry Thomas – as well as audiences.
Representations of extraterrestrial visitors in popular culture are diverting, sometimes comforting, and even verge on the parabolic: an outsider can win the hearts of foreigners and discover a new land.
Monday's Google Doodle commemorates the Roswell UFO incident, in which unidentified debris was discovered on a ranch in near a New Mexico town. This discovery was followed by seemingly contradictory official reports, which in turn prompted a slew of conspiracy theories.
---