Apple's App Store marks fifth anniversary
Apple's App Store opened online five years ago Wednesday, dramatically changing the way consumers get their software.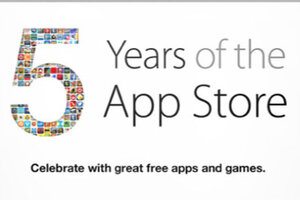 Apple website
It seems like there is an application for nearly everything: you can check the weather, look up directions, keep your kids (and yourself) entertained with games, auction furniture, buy vacation tickets…the possibilities are endless.
But think back just five years ago, before 55 percent of all cellphone owners had smartphones, to a time when "app" wasn't even in the vernacular. 
On Wednesday, July 10, Apple celebrates the fifth anniversary of its App Store, when the company first launched in 62 countries with 500 apps available– a fraction of today's offering.
When Steve Jobs first announced the iPhone before its June 2007 release, he said that the device would "reinvent the phone." The first generation iPhone had a touchscreen with a handful of built-in applications, slightly reminiscent of a PalmPilot, but better. The thought of resizing photos and carrying on two multiple SMS conversations was cutting edge.
Nearly a year after the iPhone was introduced, Apple shifted the smartphone market again when it launched the App Store, and gave iPhone users access to 500 apps made by third-party software developers.  Approximately 10 million apps were downloaded in the store's first 4 days. App Store customers have now downloaded over 50 billion apps from Apple's store.
Whereas acquiring new software used to involve pesky packages and CDs, the App Store reduced software purchase to a click.
Several months after Apple launched its App Store, Android launched the Android Market, now known as Google Play, followed by BlackBerry's App World in April 2009. 
The App Store lead to the "democratization of software," says Jason Grigsby with CloudFour, a company that helps developers realize their mobile development projects. With the App Store, private software developers gained the opportunity to sell their application to a wide audience. The App Store has "fundamentally changed the world," said Tim Cook in his keynote speech at the Apple Worldwide Developers Conference in June.
While the App Store undoubtedly created a sea change in the way that developers were able to market their wares, allowing rookie software engineers to get a head start in the business, Apps from major Web brands remain the most downloaded. Additionally, Apple takes a 30 percent commission off the sale of every app sold, diminishing profit margins for developers who create apps that don't go viral. 
According to a New York Times article, the app making market is "weighted heavily toward a few winners." A quarter of app developers surveyed by Streaming Color Studios, a game developer, had made more than $30,000, and a scant 4 percent made over $1 million from selling their software to Apple. Â 
For the App Store's fifth birthday, Apple is giving away five free game downloads for "Badland," "Infinity Blade II," "Superbrothers: Sword and Sorcery EP," "Tiny Wings," and "Where's My Water," and five app downloads for "Barefoot World Atlas," "Day One Journal," "How to Cook Everything," and the photo customizing app "Over." 
---