Google dives into streaming TV with Chromecast
Google released Chromecast, a TV streaming device that pulls in shows from the Internet.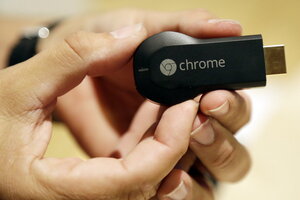 Marcio Jose Sanchez/ AP Photo
Google – the search engine, e-mail provider, and trivia authority – has moved into new territory. The company is now selling a set-top box that connects users' cellphones, tablets, or laptops to their television.
Chromecast looks like a black thumb drive and fits into the back of a television. Simply plug in Chromecast, connect it to Wi-Fi, and then stream videos over the Internet to your TV. Users can continue other activities on their phones or laptops while streaming content onto their TV. This means you can start watching Netflix content on your iPhone, stream the episode to your TV, and play a game on your phone while watching the streaming content, according to a review by Mashable.
"Of course people would want to watch YouTube and Netflix on the device with the biggest screen, but the user experience on the TV has been so difficult," says Rishi Chandra, a director of product management at Google in an interview with Bloomberg after the product's unveiling.
Chromecast is compatible with Android, iOS, Mac, and Windows operating systems – and costs $35, putting it as one of lowest-priced TV hookups.
---