Vietnam's Internet decree receives backlash from US embassy in Hanoi
Vietnam's latest decree on Internet freedom raises attention at the US embassy in Hanoi and online-freedom groups.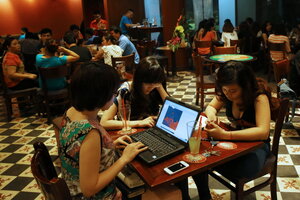 Na Son Nguyen/AP/File
The United States embassy in Hanoi expressed "deep concern" about Vietnam's latest decree on the country's Internet activity in a statement issued Tuesday.
Under Decree 72, individuals will not be allowed "to quote general information ... from newspapers, press agencies, or other state-owned websites," said the head of Vietnam's Department of Radio, TV, and Electronic Information Hoang Vinh Bao in a report accessed via Radio Free Asia. The Vietnamese government says that Decree 72 is meant to protect intellectual property rights and curb plagiarism in the country. However, both the US embassy and media freedom groups view the new decree as the latest in a series of Internet regulations in Vietnam, meant to prevent social media users from sharing others' posts.
The decree is "Vietnam's latest attempt to suppress political blogging and deter all forms of critical commentary online," writes Shawn Crispin, the Committee to Protect Journalists's Southeast Asia representative in an e-mail to the Monitor sent from Bangkok. "Independent bloggers have challenged the ruling Communist Party's stranglehold on the media, and this new decree is the government's latest attempt to close down that open space."
All news publications in Vietnam are owned and controlled by the government, according to the Committee to Protect Journalists.
---