On the horizon: News from the frontiers of science.
Comets and asteroids made of similar stuff, a bird needs more than plumage to pick a mate, and nanotech builds a better radio.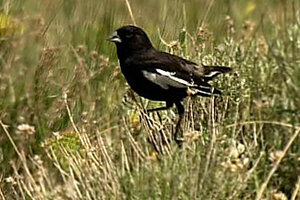 Courtesy of Michael Seraphin/Colorado Division of Wildlife
Scientists sample an odd comet
For planetary scientists studying comets and asteroids, our solar system gets curiouser and curiouser.
Take Comet Wild 2, for instance. In 2006, the National Aeronautics and Space Administration's Stardust mission brought back samples of Wild 2's dust. Based on the comet's orbit, scientists thought Wild 2 had formed in the Kuiper Belt. That's a frigid region of icy objects that orbit between 1.8 billion and 4.6 billion miles from the sun. Thus, Wild 2 was thought to contain a lot of fairly pristine interstellar dust, which would open a window on the environment in which the solar system was born. Instead Wild 2's dust looks more like the stuff of asteroids, which hurtle around the inner solar system. Moreover, as researchers scrutinized Wild 2's dust samples, they found far fewer cosmic dust grains than found in samples that high-altitude jets collect from the upper atmosphere.
That leaves a couple of choices, according to the team, led by Hope Ishii at the Lawrence-Livermore National Laboratory in Livermore, Calif. Perhaps Wild 2 formed in the inner solar system, then got kicked into the Kuiper Belt. Or perhaps it formed in the Kuiper Belt from raw materials that were ejected from the inner solar system. Either way, the researchers say, it looks like any boundary between regions where Kuiper Belt comets formed and asteroids formed was fuzzy indeed. It may be that the difference between the two objects is largely one of age – many asteroids may be the skeletons of comets that lost their ice as, like Icarus, they flew a tad too close to the sun. The results appear in the current issue of the journal Science.
---