Robots set to overhaul service industry, jobs
In the next decade, robots will increasingly take over low-level jobs, experts say, displacing human employees.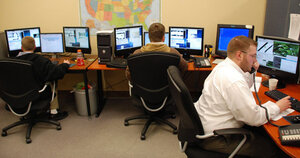 Tom A. Peter
At a mall in Osaka, Japan, lost shoppers can get directions from a robot that looks like something out of "The Jetsons." In hospitals across the US, disc-shaped robots deliver bed linens and meals to rooms. In some homes, robots are already doing a range of chores, such as vacuuming rooms and cleaning gutters. At least one company is working on a robot that works on a farm.
As a growing number of robots become capable of working alongside humans, the service industry may face a pattern all too familiar in the manufacturing sector: robots replacing humans in jobs.
"The service sector, which is a gigantic part of the employment landscape in the United States, is inevitably going to be a place where you can replace millions of people with robots that work 24/7 for less money," says futurist Marshall Brain.
While it will take a decade or more for droids, such as "Robovie," the mobile MapQuest in Osaka, to become pervasive in everyday life, the robotics industry is primed to begin producing robots that could eventually take the place of tour guides and bellhops.
The first robots to make a serious impact on the staffing in the service industry will probably carry out low-level tasks, experts say, allowing people to focus on chores that require higher levels of intelligence.
For now, automatons such as Robovie that use cameras and sensors to "understand" human emotions are more the exception than the rule.
---