California museums tell the history of computing
Bit by bit, they gather and display gadgets from the computer revolution.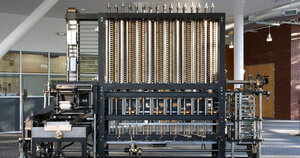 Courtesy of Marcin Wichary/Computer History Museum
When this computer crashes, sword blades literally jam it to a halt. Debugging requires a crowbar.
Charles Babbage's Difference Engine No. 2, one of the earliest computers, has just arrived for display May 10 at the Computer History Museum here in Mountain View. It existed only on paper for more than 150 years until, in 2002, Doron Swade and a small team assembled the five-ton computer from 8,000 bronze, iron, and steel parts.
On one side is a hand crank, on the other a spool of paper to print answers to the polynomial functions used by navigators and astronomers. Between lies the heart of the engine, rising like a gigantic abacus whose beads are interlocking gearwheels, each representing a digit. As Mr. Swade turns the machine's crank, gear teeth propel gear teeth in a whirling dervish of additions.
"By exerting physical energy, you could get results that, up until that point in time, were only achieved by mental effort," says Swade. "This was the first successful transfer of human intelligence to a machine."
The rest is computing history.
Nestled in this expanse of office parks and in the nearby mountains are two museums dedicated to preserving the history of Silicon Valley's computing culture. There's some overlap between the Computer History Museum and the considerably more informal DigiBarn Computer Museum set in the mountains outside Santa Cruz. What's different are their presentations and curatorial philosophies. Together, they make for a very nice pairing.
---